The Summer Reading Program  starts June 1st!
Kids up to age 18 can register to win prizes for reading!
If your child is too young to read, you can read to them
In order for library staff to have your prize ready for you, completed logs must be returned no later than the Monday before you would like to pick up your prize.
Prize giveaways are on Tuesdays (starting June 23)
from 10-12 outside the library.
When picking up your prize, please wear a mask and maintain a 6-foot distance from those around you.
You may return your completed log to the library through the book drop, through email at library@wellingtoncolorado.gov, or by fax at 970.568.3040.
We will only be handing out one prize to each child this year. 
Last day to collect prizes is July 28.
Get Started!
Step 1:  Click HERE to REGISTER starting June 1st  
Step 2:  Print your Reading Log         Reading Log 2020
***If you do not have a printer, you can pick up a log on the table outside the front entrance of the library (M-F 10-2:45).
SUMMER CHALLENGES:
Get your creative juices flowing with these fun projects.  A new challenge will be uploaded each week during the Summer Reading Program. 
Complete the activity and share it with us!  Each submission will earn the participant an extra entry into our Grand Prize Drawing in August (1 entry per challenge).  The Grand Prize is a family 4 pass to Urban Air Adventures.
Email your pictures to library@wellingtoncolorado.gov, drop them in our dropbox, or message them through the Wellington Library Facebook page. 
Make sure to include the name of the participant!  
Weekly Challenge #1: Scribble Art
Weekly Challenge #2: Build a Castle
Make it your own…think about using cardboard boxes, playing cards, paper, Legos, blocks, or craft sticks.  Let your creativity fly!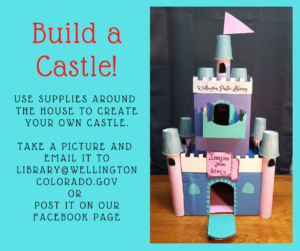 Weekly Challenge #3: Let it Fly!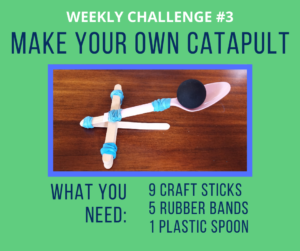 Click Here for Easy-to-follow Catapult instructions
Weekly Challenge #4: Fairy Tale Mad Lib
Create your own fairy tale adventure!  Follow the link to print out our Mad Lib story or pick up a copy at the library.  Then, complete the story and send it to library@wellingtoncolorado.gov or drop it off at the library (dropbox). 
(Please make sure to keep your stories family friendly!)
Click here to download your printable Fairy Tale Mad Lib Story!
Weekly Challenge #5: Help a Neighbor
This week's challenge is about assisting people in your community. Ask a neighbor, grandparent, or friend if they need help with any chores or take a look at the suggestions below.
Then, share your experience with us at library@wellingtoncolorado.gov.
Ideas (Make sure these are okay with your parent or guardian first):
Help with yard work like pulling weeds, watering the garden, or for older children, mowing the lawn
Pick up trash around the neighborhood
Deliver freshly baked cookies
Sweep the porch
Make a picture to share
Paint rocks with positive messages to leave on neighbors' porches
Offer to pick up items at the store for an elderly neighbor
Leave a cheerful note on your neighbor's door
What ideas do YOU have for helping in your neighborhood?
Weekly Challenge #6: Create Your Magic Wand!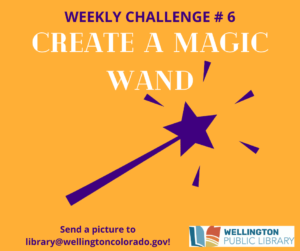 Let your imagination soar as you create a magic wand!  The possibilities are endless.  Each wand will be unique and perfect for you.  Pick up a kit from the library (while supplies last) or use supplies from home or in nature.  Look for inspiration online or follow our step-by-step directions for our take-home kits. 
Send a picture of your wand to library@wellingtoncolorado.gov for an extra entry into our grand prize drawing. We can't wait to see your amazing creations!
Click here for step-by-step directions for our Take-Home Kit
Weekly Challenge #7: Take a StoryWalk
Our outdoor StoryWalk featuring the book, Willbee the Bumblebee by Craig Smith and Maureen Thomson, is available Tuesday 7/14 through Sunday 7/19 from 10am-7pm.  
Enjoy 16 stations, beginning at the Leeper Center (Library) sign adjacent to Wilson Ave. Pull a ticket at the last station to exchange for a special gift (available for pickup during library staff hours Monday-Friday 9-3pm)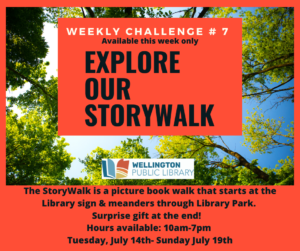 What is a StoryWalk? 
A StoryWalk is a deconstructed picture book divided and set up in stations.  Each station is a page of the book, providing reading and movement in the great outdoors!
Weekly Challenge #8: Who is your favorite book character?  Show us with sidewalk chalk art!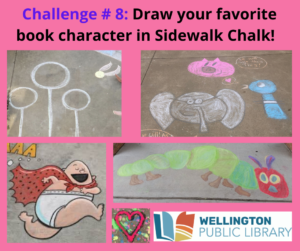 Show your family and neighbors how much you love to read when you draw your favorite book character on the sidewalk.  Then, send a picture of your street art to our email, library@wellingtoncolorado.gov , for another entrance into our grand prize drawing. We can't wait to see your creations!  
Weekly Challenge #9: Create a Knight's Shield or a Family Crest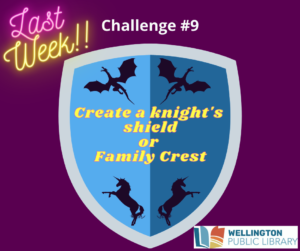 This is the final week of the Summer Reading Program!  Hope you have had fun!  Try out this last challenge:
Using cardboard, poster board or even regular paper, create a shield or crest.  Paint it or color it with markers or crayons.  Then, make it your own! 
Knight's shield: Cut out (or draw) shapes or pictures of  your favorite magical creatures and glue them on your shield. 
Family Crest:  Draw or cut out things that are meaningful to your family and glue them on to your crest.  Then, share with your family about what each picture means!
Don't forget to share a picture of your finished project at library@wellingtoncolorado.gov. 
Thank you for participating!  Enjoy the rest of your summer!